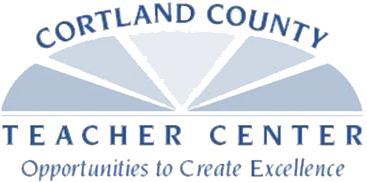 MISSION:
To serve as a catalyst for cooperative learning endeavors for educators at all levels by coordinating resources and opportunities directed at enhancing teacher effectiveness and student learning.
Welcome to our website! We hope you find it is user friendly and helpful as you plan your professional development. Although the amount of our funding has been drastically reduced, we plan on offering you opportunities that will enhance your performance and development. One of our goals is to work with groups of teachers on their professional planning. If you have a common goal with other teachers, we would like to help you by providing:
- content area workshops

- professional materials
- book studies
-
- teacher-to-teacher presentations
Feel free to contact me with your ideas!
We are located in the cluster area of Barry Elementary School - Room 340
Hours: Monday & Wednesday, 11am - 4pm
Bonnie Calzolaio, Director
Cortland County Teacher Center
Barry Elementary School
20 Raymond Avenue
Cortland NY 13045
Phone 607-758-4094
Fax 607-758-4159
Email: This email address is being protected from spambots. You need JavaScript enabled to view it.